---
Home
List your patent
My account
Help
Support us
---
Riparian Flood Wall Structure
[Category : - OTHER- Construction Processes & Equipment- Life-saving; Fire-fighting]
[Viewed 3140 times]
12/3/14
$428,779.89 Buys the patent outright. A LICENSING AGREEMENT REMAINS ANOTHER OPTION. THE LONG TERM PROFIT PROJECTIONS DUE TO MULTIPLE USES FOR THE SAME PRODUCT MAKE THE INVESTMENT AN EXTREME BARGAIN.
FROM A INTELLECTUAL PROPERTY POINT OF VIEW WE WILL MAKE OURSELVES AVAILABLE FOR ANY NEEDED INPUT INTO THE PROJECT. THIS PROJECT IS A NATURAL MATCH FOR ANY PLASTICS ROTATIONAL MOLDING COMPANY ABLE TO PRODUCE LARGE (4 FOOT CUBED) UNITS. PRODUCTION COSTS ARE REDUCED TO: PATENT PURCHASE, DESIGN DEVELOPMENT/ENGINEERING, PRODUCTION OF MOLDS AND COST OF MATERIALS. INVESTING IN A SUBSTANTIAL PROTOTYPE USED IN REAL TIME TESTING WILL NATURALLY PROVIDE SUBSTANTIAL NEWS COVERAGE. FREE ADVERTISING. KEEP IN MIND THAT THERE ARE A MINIMUM OF FOUR SEPARATE MARKETS AND DISTINCT SALES MARKETS, WORLDWIDE, FOR THE RIPARIAN FLOODWALL STRUCTURE.
9/11/14
Based on recent weather history worldwide and the related price, both in lives and property lost, we see an era of weather that will continue along the path of rapid destruction due to flash floods caused by these extreme rain events. The reality of this patent needs to be produced and used as both flood diversion, oil spill retention and collection. AS THE INVENTORS, WE HAVE REDUCED THE PRICE BY TWO THIRDS IN HOPES OF MOTIVATING THE PROPER ACTIONS.
5/22/14
ANOTHER PERFECT EXAMPLE OF THE PROTECTION THE RIPARIAN FLOOD WALL STRUCTURE WOULD PROVIDE IS UNFOLDING IN SERBIA. THE COST OF ASSEMBLING AND POSITIONING THE 'WALL'WOULD BE MUCH LESS THEN THE COST OF THE DAMAGE TO TWO OF THEIR POWER PLANTS.
IN HARD ECONOMIC TIMES IT IS HARD TO BELIEVE THAT NO ONE SEEMS INTERESTED IN A ENTIRE INDUSTRY WAITING FOR SOMEONE OR SOME GROUP TO CREATE. THERE IS A WORLD WIDE MARKET FOR RESIDENTIAL AND COMMERCIAL FLOOD DIVERSION THAT CAN BE ASSEMBLED AND PLACED AS A REPLACEMENT FOR SAND BAGS IN A FRACTION OF THE TIME.
THERE IS A SEPARATE MARKET FOR COASTAL OIL SPILL PROTECTION.
SOME PEOPLE HAVE COME UP WITH AN A NEW ALTERNATIVE FLOOD AND OIL SPILL CONTROL "PRODUCT" THAT CAN SAVE BILLIONS OF DOLLARS FROM FLOOD DAMAGE AND COASTAL ENVIRONMENTAL DAMAGE. SO IF THE NEED IS APPARENT AND THE SAVINGS SUBSTANTIAL AND THE ENGINEERING OF AND DEVELOPMENT OF A PROTOTYPE.
A MINIMUM OF 80 PERCENT OF THE GULF OIL SPILL FROM HORIZON DID NOT HAVE REACH THE COAST LINE HAD THE RIPARIAN FLOODWALL STRUCTURE BEEN IN PLACE ALONG THE BEACHES OF THE GULF COAST.
WE ARE THANKFUL FOR THE INTEREST BY THE VIEWERS OF THE 'AD', YET WE ASK THAT YOU STEP IT UP BY SHARING WITH THOSE THAT COULD MAKE THIS HAPPEN. WE ARE INVENTORS AND PROBLEM SOLVERS. WE ARE NOT MARKETEERS, ENGINEERS, MANUFACTURES, OR OF ECONOMIC STANDING TO BRING THE IDEA TO REALITY. WE NEED HELP. SOMEONE HAS TO TALK TO SOMEONE THAT WILL TALK TO SOMEONE THAT KNOWS SOMEONE WHO WILL CONSIDER TAKING A SERIOUS ACTION TO MOTIVATE DEVELOPMENT AND PRODUCTION. THE FIRST PROTO TYPE USE, EITHER IN A FLOOD OR SPILL EVENT, WILL ATTRACT MEDIA COVERAGE. ANY TIME SOMETHING OF BENEFIT TO HUMANKIND IS TESTED IN REAL-TIME, THAT IS WHAT MEDIA DOES. POINT BEING, PRODUCT EXPOSURE VIA WORLDWIDE MEDIA. WHAT IS THE PRICE TAG OF THAT ADVERTISING BLITZ? THE MANUFACTURER GET A FREE UNVEILING ADVERTISEMENT.
IF YOU ARE READING THIS, SHARE IT WITH SOMEONE WHO MAY HAVE THE RESOURCES TO INITIATE THE PROCESS.
ROTATIONAL MOLDING COMPANIES. ANY OF YOU CAPABLE OF PRODUCING COMPONENTS THIS LARGE HAVE THE OPPORTUNITY TO MANUFACTURE AND MARKET A NEW FLOOD DIVERSION PRODUCT THAT WILL SELL ITSELF WITH ITS ABILITIES.
E-MAIL US FOR MORE INFORMATION.
A modular flood wall assembly having a relatively flat base member having a plurality of ribs extending there from. The assembly further comprises a plurality of inter-connectable blocks, with each block having a top surface with at least one hollow protuberance, at least one side wall, a hollow interior, and a bottom surface having at least one hollow cavity. The cavities on the bottom surface of the blocks are mate able with the ribs on the base member. The protuberances on the top surface of the blocks are mate able with the receptacles on the bottom surface of a corresponding block.
This is a " Flood Diversion" product for protection of infra structure damages to home owners and commerce alike. Replaces sand bags. Four person assembly team per unit moved, decreases response time, freeing other volunteers to focus on solving other flood problems. OTHER USES: Can also be used for beach protection from oil spills while also acting as an absorption process for the sea side exposure with attachments. Miles of clean beach. Can be produced using approx 50% recycled materials.
World market for both commercial and residential use. Can be a utilized by a company providing flood services with assembly and placement or rental of units.
Minimum bid info: FLAT OUT PURCHASE OF PATENT BEGINNING BID IS $142,926.63 American Dollars.
As an alternative a licensing agreement can be provided or other methods when needed.
EXTREME CAUTION!!! PLEASE, ONLY SERIOUS INQUIRES. THE DEVELOPMENT AND PRODUCTION COSTS ARE SIZABLE.
Keep in mind that production of The Riparian Flood Wall Structure results in the expansion of the plastics industry, creating new jobs on an industry scale. The Market: There is no area of the world inhabited that is without floods. Event demand for commercial units will be measured in miles, most often. The products are reusable and transferable. For anyone inclined to take on such a project there are funds available for development costs through a multitude of avenues. Property insurance companies may be willing to invest in a claims payout reduction product. An industry made in America, perhaps government funding and of course capital venture and angels.
It takes approximately 3,000 units to comprise a four foot tall mile long wall. An example of cost saving would be the ability to prevent the flooding of the subway tunnels in New York City during hurricane Sandy. Think of it as a New Q-Tip or Jell-O on a much expanded scale. A first of its kind solution to Flood and OIL SPILL coastal damage.
Financial information
SEE ABOVE PARAMETERS OF USES AND COSTS.
SEPARATE CONSIDERATION SHOULD BE GIVEN TO THE DIVERSIFIED MARKETS PROVIDED BY THE PARAMETERS OF THE PATENT AND OTHER USES FOR.
HERE IS THE FOCUS AND EXAMPLES OF OTHER USES FOR THE RIPARIAN FLOOD WALL STRUCTURES;
What we define as the Commercial Market is made up of government agencies from local to national. A worldwide demand by those involved in protecting infra structure and lives. A market based on historical geographic position for consistent flood events and flood prone areas.
The market that we define as the residential and sub market of services is protection of personal property and structure during a flood event. Assembly, dis-assembly and use-ability would be an offshoot industry birthed from the patent.
The marketing of this product as a shoreline protection system providing both shore protection but also an easily managed collection system for oil spilled. BP would have certainly paid for assembly and collection system use of the RFWS, versus the cost of fines and reimbursements.
There is a market for predictable or spontaneous use. Our example of this would be Super-storm Sandy and her effective damage to the New York City Subway system. This was a long predictable flood event allowing for plenty of time for mobilization, assembly, and securing the RFWS units providing protection to the entrances of the subway infra structure.
When defined by its many markets the "Riparian Flood Wall Structure" production and use represents a new industry with worldwide demand.
---

Patent publications:

US 8382398
Asking price:

428,780 USD


Rate this patent

Great invention
Viewed:
3140 times
---
---
---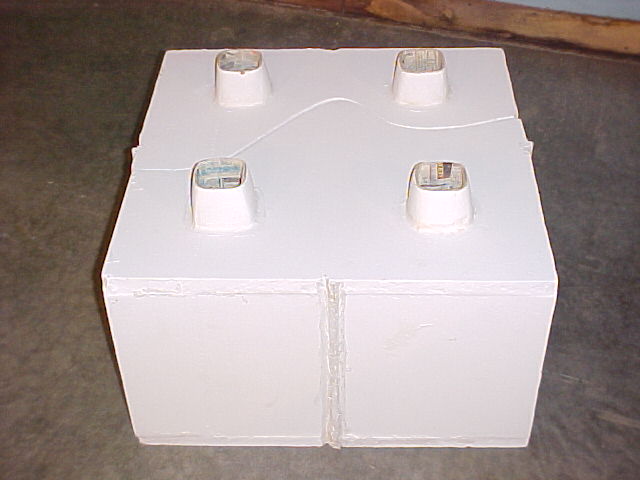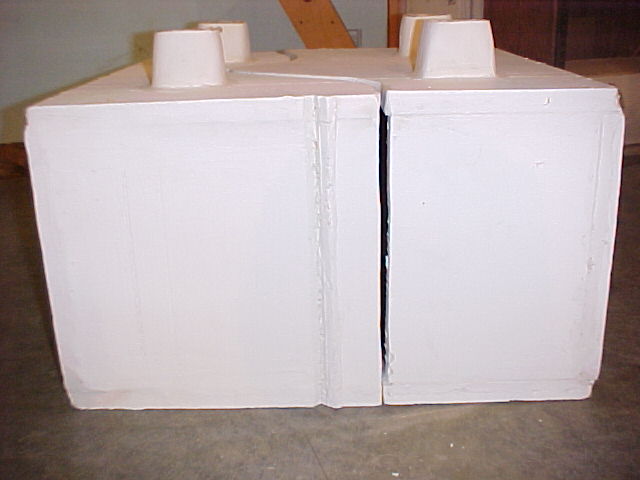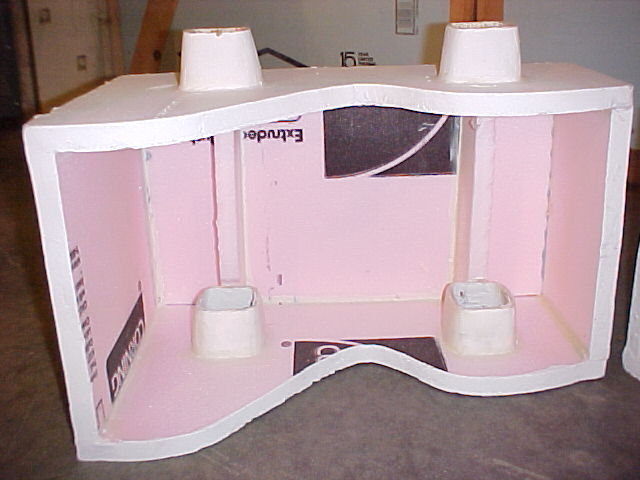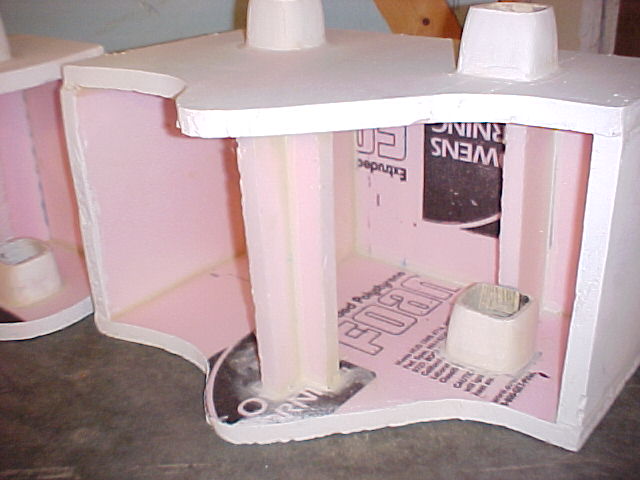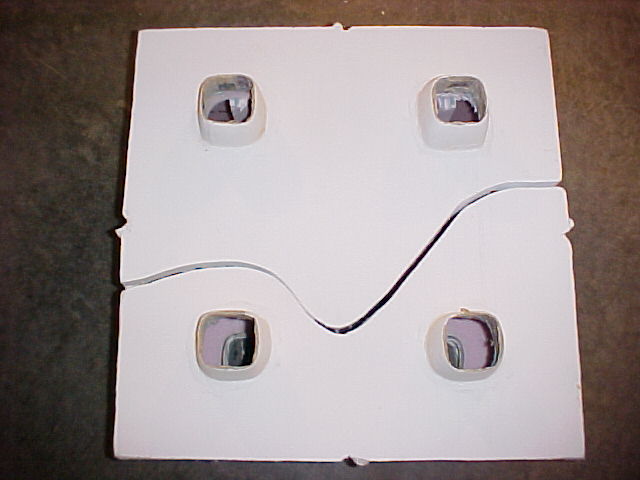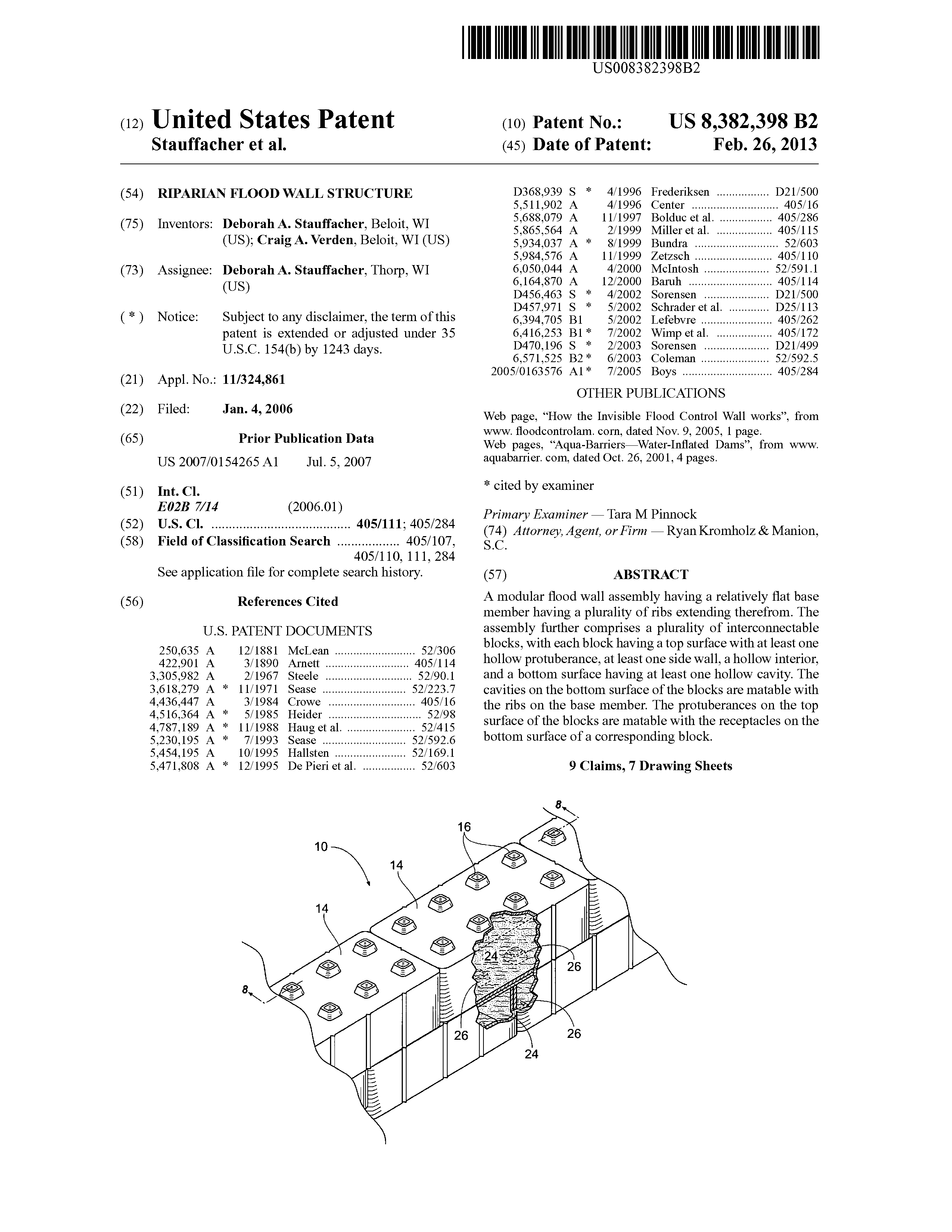 [ Home | List a patent | Manage your account | F.A.Q.|Terms of use | Contact us]
Copyright PatentAuction.com 2004-2017
Page created at 2023-03-21 12:31:18, Patent Auction Time.