---
Home
List your patent
My account
Help
Support us
---
MULTIFUNCTIONAL SYSTEM LOCATED ON ELECTRIFIED LIGHTING TRACK
[Category : - ELECTRICITY & LIGHTING]
[Viewed 775 times]
The present invention of a new utility model generally refers to a multifunctional power and data transmission system mounted on an electrified "Track".
The purpose of this invention is to provide in one single means of transport all the features necessary for transmitting ethernet data and the mono-phase 220V or three-phase 380V power of the single connecting apparatus, as well as allowing it to be telegestied through a single proprietary software that can be used by any Device.
This utility model patrol specifically relates to a multifunctional service and support system for: led lighting, video surveillance, anti-theft RifId, sound diffusion, telephone and computer networks, Transmission via li.fi. And wi.fi., Sensor, emergency power supply.
The multifunctionality of this system affects Retail, Office, Healthcare, Receptive, Shopping Centers, and is suitable for waiting or passing environments.
To date, technology offers systems divided between the two transmissions (electrical and data), the novelty of this invention is the simultaneous service and installation of the same on a single technological innovation.
The market requires modular and flexible services and products to adapt easily, swiftly and economically to the ever-changing challenges that the current historical moment requires.
This invention is born to meet the needs of modularity of the spaces of the most diverse industrial, commercial, residential, and large-scale structures in general, allowing the movement of the electrified track of the housed housed in a fast and economical way. Orientation, depending on the different needs.
The electrified track, the physical body of this invention, with connections, mechanical anchoring systems, and housing boxes have been studied ad hoc to best fulfill their task. The system can be modulated in length according to the end user needs.
The Track can be installed on suspended ceilings and by means of special aluminum side profiles, this system can become the support structure for suspended ceilings in plasterboards or billboards.
The Track is made of anodized die-cast aluminum, housed inside there are data lines and electrical cables for mono and three-phase power as well as cables for the DALI control system.
Connectors, mechanical couplings and driver housings are made of plastic materials.
The electrical connection system between the individual devices and the binaries can be connected, by means of a special "Wheel", in operation: single-phase, single-phase with DALI, three-phase, three-phase with DALI, without power supply. It has the hook and hold function for each device. Displays the bottom of the Ethernet data cable output with "Push & Pull Male Plug with Guided Connector" for connecting to the Line Connectors located on the Binaries.
The mechanical engagement system can be equipped with a housing that accommodates AC / DC transformers and control components that work as interfaces with the general computer system.
All the equipment installed on the Binary can operate simultaneously for their different functions, the transmission of the produced data is done through the track itself.
All Systems, Camcorders, Anti-Theft Spectrum Reader, Power Supplies, Audio Cases, Li.Fi., WI.f., Sensors, Emergency Power, LED Lamps are governed by a single Management Device (Tablet, Smartphone, Computer) Through a proprietary software with user interface frendly.
We include the legend of the graphic images enclosed in the appropriate section:
Figure 1 is a perspective view of a first embodiment of the "Track" (1) where all devices according to the present invention will be inserted. The Lines (12), "L2" (9), "L3" (11), "N" (14), "Terra" (10), "Dali" (15), "Connector Linear Three-Phase, DALI and Data "(2)" Push & Pull Line Data Line Connector with Guided Connector for Ethernet 1 Line and 2 "Ethernet Line (13);
- Figure 2 is a perspective view of the "Three-phase, DALI and Data Linear Connector" (2) also depicts the "DALI line electrical connection board" (18),
"Electrical Connection Line N" (19), "Ground Line Electric Connection Line" (20), "Electrical Connection Line L1" (21), "Grip Point" (17), "Male Line Data Connector Push & Pull with guided engagement for Ethernet 1 line and 2 "Ethernet line (16);
- Figure 3 is a perspective view of the "Three Phase, DALI and Data Linear Connector" (2) Figure 2 with rotation of 180 °, are also shown, "Line Data Connector (22), "Power Line Connection Line" (23), "Power Line" (22), "Power Line Connector Lampe" "Power Line L2" (24). - Figure 4 is a perspective view of the coupling with non-connected parts "Binary" (1), "Three-phase Linear Connector, DALI and Data" (2) are also shown "Aluminum Side Profiles for Recessed Mounting in the Countertop" Figure 5 is a perspective view of the "mechanical engagement system" that allows the individual devices to be installed on the bin (1) and the Ethernet cable connection with a Push & Pull male coupling with a guided plug (27) To "Push & Pull Line Data Line Connector with Guided Connector for Ethernet 1 Line and 2" Ethernet Line (25), as shown in Figure 3; (31), "Electric connection line L1" (32), "Electrical connection line lamella" (31), "Electrical connection line" (29), " Unseen area of the perspective view are housed in the specular position: "Electrical connection line DALI line", "Electrical connection line L3", "Earth electric ground connection lamina", "L2 electrical connection lamina" - figure 6 is a perspective view of the complete assembly of a mechanical coupling system (as in figure 5) with "led lamp" (33), "driver and controller housing" (34), binary (1) "Three-phase, DALI and Data Linear Connector" (2); - Figure 7 shows a front view of a contextualization of use. In the depicted scene, they are placed on a single "track" (1) with "Three Phase Linear Connector, DALI and Data (35), "Wi.Fi" (36), "Li.Fi" (37), "LED lamps" (33), "Audio cassettes" ( 38), "Grip Point" (17), "Video Camera" (39), which can be installed today, placed within a structure at different times of daily life. The underlying characters benefit from such services. Figure 8 shows a simplified scheme of system function as a whole. With "Device Management" (40) (Smartphone or Computer or Tablet), "Work Station" (41), Workstation data line (41) - Binary (1). It is clear, then, that many other variants Can be made to the system without departing from the novelty principles inherent in the inventive idea, as it is clear that in the practical implementation of the invention, the materials, shapes and dimensions of the details illustrated may be any according to the Needs, and they can be replaced with other technically equivalent ones.
The potential of the invention is really huge, since the patent oblect can be used wherever a lighting track can be installed, like shops, retail sector, factories, offices, residential, hotels, etc., providing a whole package of options by eploiting its possibility of carrying AC and DC voltage current (so to bear power supply) and fast and protected ethernet line with universal coupling system so that it can easily hold and house a lot of different devices (security cameras, Wi-Fi repeaters, Rfid, Tvs, Speakers, Sensors (anti-intrusion, fire, gas, etc.), and of course LED light lamps and many others.
---

Patent publications:
No publication
Asking price:

Make an offer


Rate this patent

Great invention
Liked:
1 times
Viewed:
775 times
---
---
---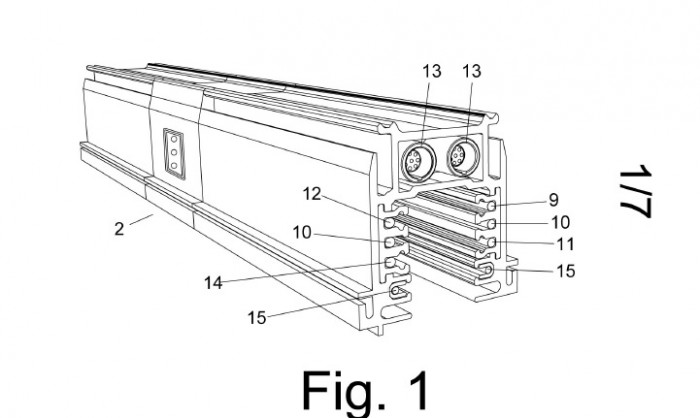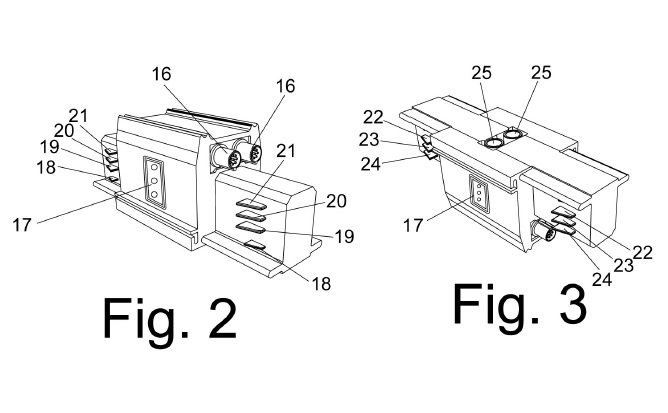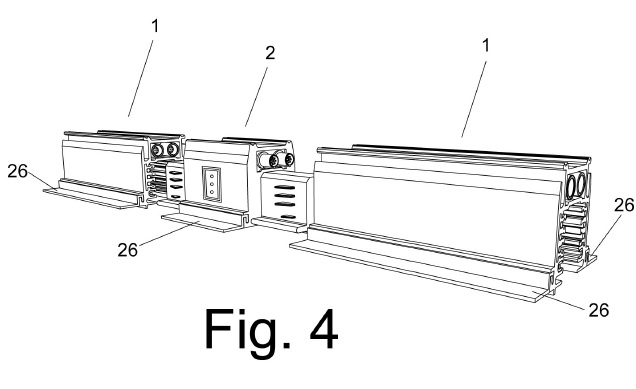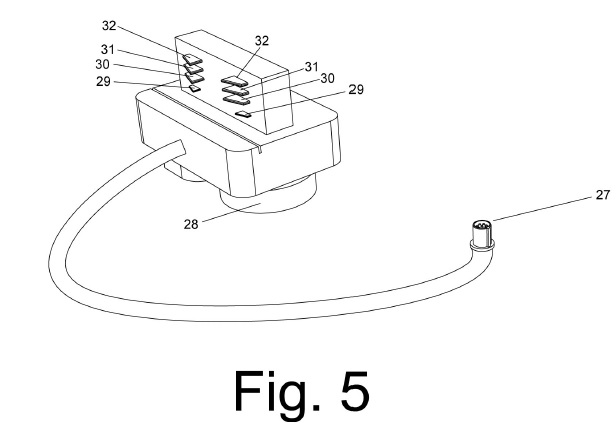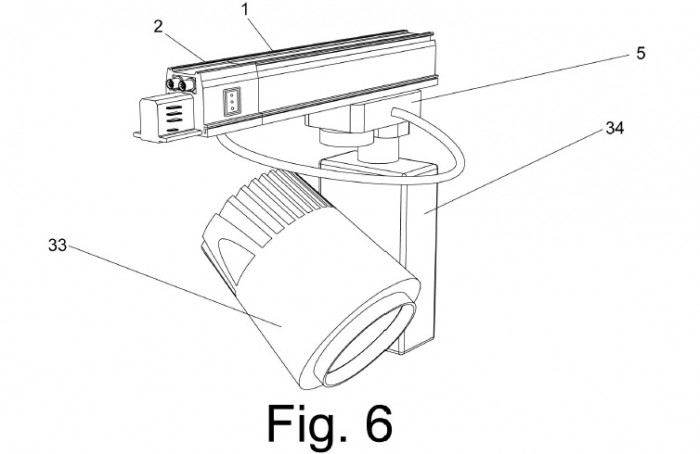 [ Home | List a patent | Manage your account | F.A.Q.|Terms of use | Contact us]
Copyright PatentAuction.com 2004-2017
Page created at 2023-12-03 14:20:18, Patent Auction Time.