---
Home
List your patent
My account
Help
Support us
Contact us
---
This would change the way people shop forever! Guaranteed.
[Category : - OTHER- Food- DESIGN PATENTS]
[Viewed 1267 times]
One Trip! One Hand.....Transport up to 12 grocery bags and beverage packs altogether. No hand stress, no carrying and no return trips to the vehicle. Fast and Easy!
US PATENT No. D764138
US PATENT No. D764137
Issue Date: 08/16/2016
PROBLEMS IT SOLVES:
1. No more difficulty and carrying by hand more than 10 grocery bags at a time every time you shop.
2. Did you know bottled water pack weigh as much as 28 pounds?
Well....you don't need to carry them anymore.
3. How many times do you go back to your car to get all the
groceries bags, soda packs, boxes, and more???
Our cart will do this for you in ONE TRIP!
4. So some of you have to walk all the way to your house
from a distant parking space.........not once.....several times every
grocery day. That sucks!
That is not happening again with our Cart. Guaranteed!
5. Did you know thousands of grocery push carts are dislocated
nearly in all major cities in the US?.............. WHY?
Simply because people find it a nuisance to carry those grocery bags and cartons to their dwelling. Now many cities have new laws. City of El Paso for example now requires supermarkets to provide foldable carts for sale or for rent to solve this problem.
(Please Google: "Shopping Cart Problems....enter any city..")
Go to: Page 13
Link
6. This has been a major problem since the birth of Supermarkets and wholesale grocery stores.
Many failed carts have wire baskets and deep loading base...scratching our hands, bending deep into, crashing foods
and many are even small, unbalanced.... and simply not practical to use. A lot of people, really....A lot even use laundry carts out of desperation, others have resolved to taking store push carts home without regard to public safety, the decency.... for and respect to their owners,
Again....out of Desperation!
In fact, Facebook memes have become a laughing stock with comments like " i will die carrying 17 bags before i make a 2nd Trip" with a photo of man struggling with those bags...."
You see, this is a Big Problem specially for women, seniors and
disabled people.
NOW, WE OFFER YOU THESE BENEFITS:
*** ONE LOAD - ONE TRIP CART
Carry up to 25 shopping bags, sodas, bottled water, etc.-
ALL AT ONCE from your car to the kitchen.
*** SAVE TIME WALKING FOR MULTIPLE TRIPS where ever you
are parked. Carry ALL at once.
*** SELECTIVELY LOAD and UNLOAD the Cart as you wish....
Load and unload the grocery bags according to their
importance.
*** USER FRIENDLY-USE ANYWHERE CART
Simply Open and Load. Lightweight and Compact to store.
*** ELIMINATE HAND STRESS and PHYSICAL RESTRAINTS
In the US, we have 35 million Seniors, another 30 million
Disabled people...imagine their plight every time they
buy groceries, every week end!
*** DOLLY DARLING FOLDS INTO A BRIEFCASE LIKE CART.
It is lightweight and easy to store in any vehicle
or in the kitchen. Easy to use, fast to open, and it's
very practical and always free standing ,
*** DESIGNED FOR YOUNG AND OLD.
We have tested our prototype with a young girl of 9 years old
and a disabled senior of 57 years old. Both users saved a lot
of time and effort,
*** SAFETY - CONVENIENCE - PRACTICALITY.
No more lifting and heavy load bending. Dolly Darling Cart
has an elevated floor base for easy beverage pack loading.
The nested wall hooks provide fast and easy access for
the user whether loading or unloading. And the cart is always
balanced , and even when loaded allowing maximum use of
time, mobility and safety.
OTHER BENEFITS:
1. Supermarkets will love to sell this for you since they lose
hundreds of thousands of dollars every year to retrieve their
dislocated carts.
2. City Ordinances are becoming a common solution
to minimized push cart hazards in many places.
Even the cities literally back you up!
3. Seniors and disabled people will never disappear.
And so with 120 million apartment dwellers.
4. And finally......go to Walmart and observe the shopping
habits of the Americans. Guess what? All these people
carry their stuff by hand, and this is a serious problem
and people are desperate for a solution.
5. Monopolize the market for 14 years with 2 licensed
patents that cannot be infringed on, There is no other cart
that carries bags and boxes in such an easy manner.
We can show you all the available competing carts and we will
prove this to you upon your inquiry.
IDEAL FOR:
*** Swap Meet Shoppers
*** Trade Shows
*** Apartment Dwellers
*** Seniors
*** Housewives and Grannies
*** School Cafeterias and Restaurant owners
*** Shoppers who commute by Walking
*** Pregnant Women and Women with Children
*** Town House and Condo Dwellers
*** Students in Dormitories
*** Hospitals and Offices
Remember.....grocery shopping is done by everyone every week.
Moms, Grannies, your daughter.........grocery shopping is a lifetime
chore and the problem to transport our groceries are quite irritating, a little stupid and redundant, and very physically challenging for many people.
People are lazy in general, especially when they shop on weekends because this is supposed to be time for rest and family.
The general public needs a cart that is practical to use in their homes.
All the available carts in the market today fail to meet the users' requirements to transport their bags and beverage boxes in one single trip to save time with maximum mobility and safety.
Dolly Darling Cart promotes safety and convenience and solves the perpetual problem of grocery transportation at home.
With millions of expecting users, imagine the impact this may have--- this would change the way people shop and transport their groceries forever. Millions of people are in need of this,
just like bicycles and cars.......once you use it.....it's simply
disadvantageous not to keep one. And tell this to the 35 million seniors and 30 more million disabled people and another 4 million pregnant women in the U.S. every year. Top it off with 120 million people living in apartments and condos.......Now, that is a serious problem we are finally facing head on with a unique and complete almost a 100% guaranteed solution.
In fact, ask your mom, your grandma, your sister how they feel carrying bags and boxes......
and you will hear these all over again. We need this cart!
Now!
Financial information
Target Audience - Revenue Potential :
US Census Data:
No. of households. . .. . .. . .. . .. . .. . .. . .. . ... 105,500,000
Senior Citizens. . .. . .. . .. . .. . .. . .. . . 31,000,000
Rental units. . .. . .. . .. . .. . .. . .. . .. . .. 129,000,000
Number of Disabled in US. . .. . .. 35,000,000
Summary of discounted Target Audience: 185,000,000 ( 2/3 of US Population )
We have canvassed for manufacturers in China,
each cart can be made for approximately $ 17.00
a piece. Selling price around $ 45 to 55 each.
Potential sales from 185 Million Residents at
1% = 1.85 million Units at $ 15.00 Profit= $ 27,000,000 Profit
2% = $ 54,000,000 Profit
5% = $ 135,000,000
10% = $ 270,000,00
These are first time buyers.
Plus Repeat Sales after 3 years.
We are open to negotiate Licensing and Royalty Terms,
Exclusive rights for Distributorship and/or Long Term Partnership-Venture.
Terms as Follows:
***20% Inventor Profit Sharing
***Monetary Compensation to inventor upon Agreement
***We want a Guaranteed Minimum Quantity-Unit-Sales by
Investors
***14 Year Possible Agreement
***Inventor Privacy from Patents Disclosure
***Participation in Sales, Design and Development
Note:
We have correspondence from QVC Sprout Program and
they are interested in a possible TV showing and Sales.
INVENTOR: Joey Del Rosario
CONTACT NO. 925-597-3808
E-MAIL: [Use the button below to contact me]
---

Patent publications:

US D764138
Asking price:

Make an offer


Rate this patent

Great invention
Liked:
1 times
Viewed:
1267 times
---
---
---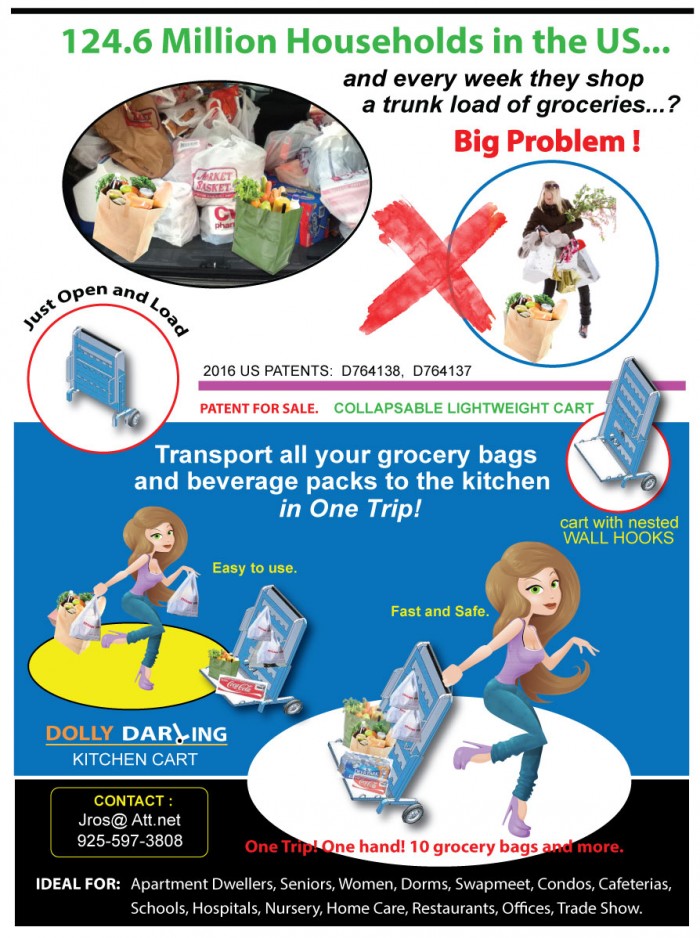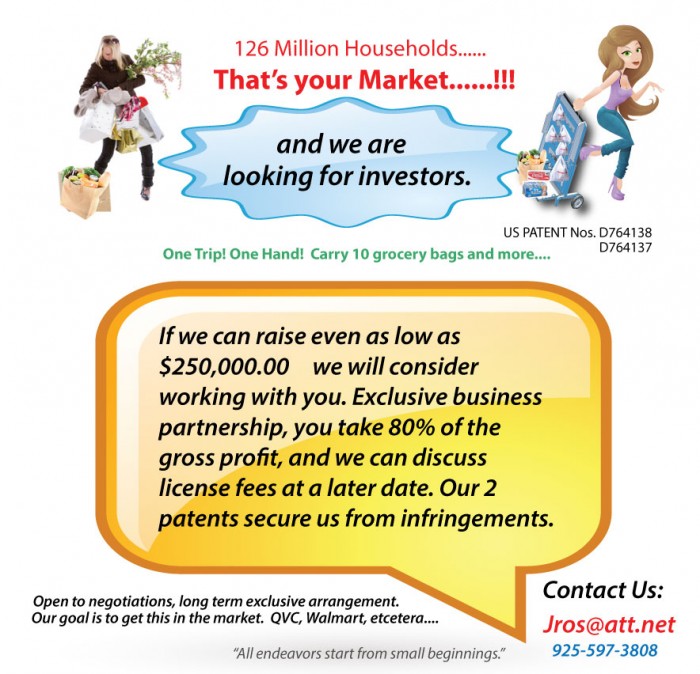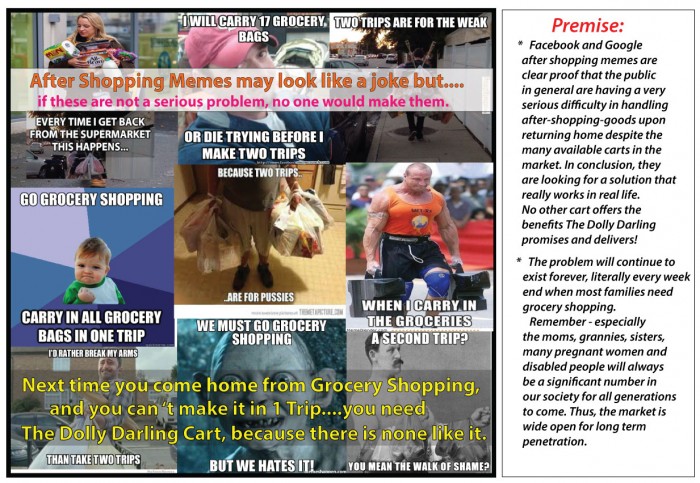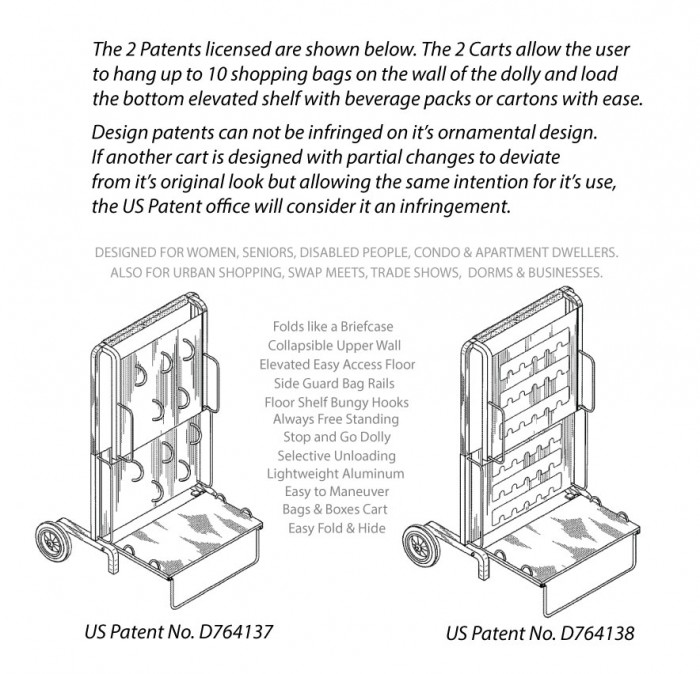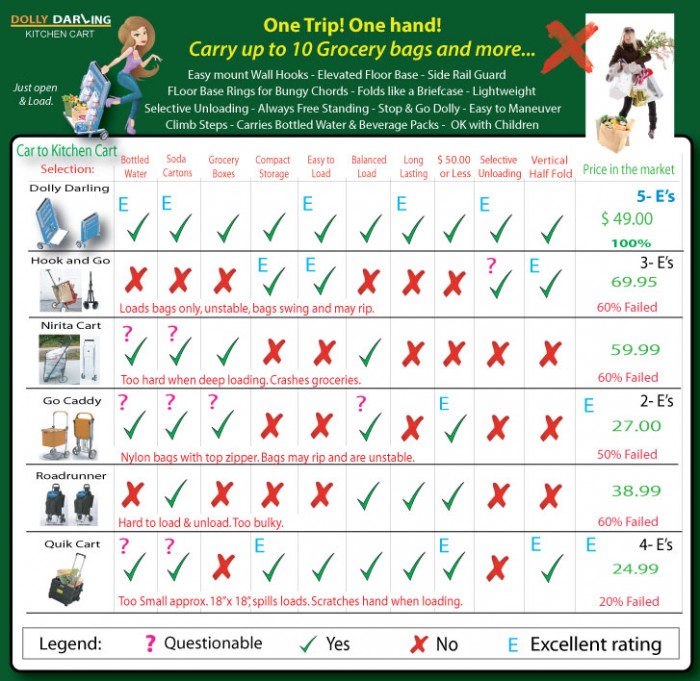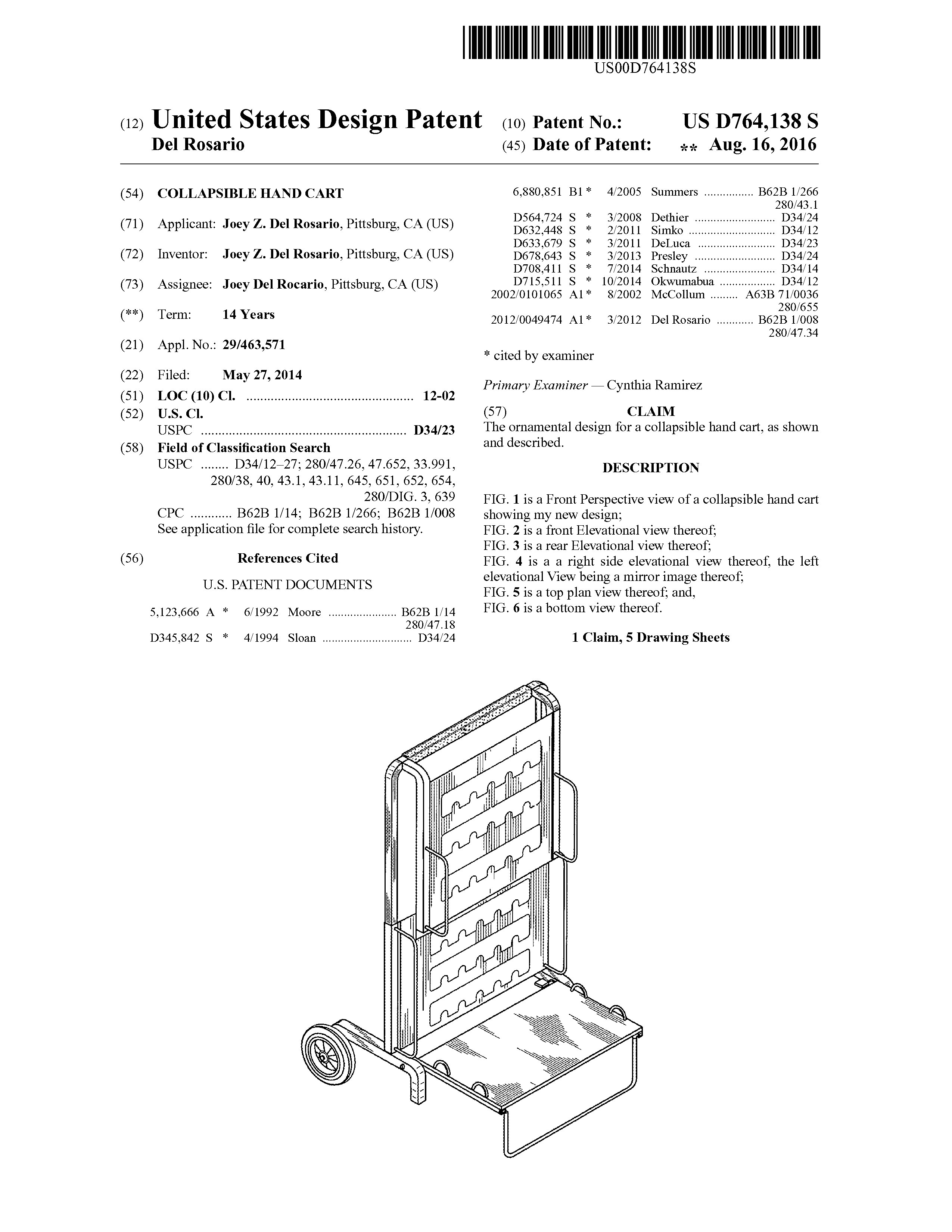 [ Home | List a patent | Manage your account | F.A.Q.|Terms of use]
Copyright PatentAuction.com 2004-2017
Page created at 2019-05-23 0:48:53, Patent Auction Time.