---
Home
List your patent
My account
Help
Support us
---
Computer Controlled Numerical Drop Saw
[Category : - Construction Processes & Equipment- CONSTRUCTION HOME IMPROVEMENT- Tools]
[Viewed 2949 times]
The purpose of the computer controlled numerical drop saw (cutter) is to accurately make two or more cuts in an elongate member, such as for making frames, especially complex frames with multiples members meeting at irregular angles, for example, joins for roofing timbers and other construction members. Also, for making one or more cuts at opposite ends very accurately, especially for a workpiece that has a round cross-section, although suitable for use with other cross-section workpieces, including irregular shapes.
The drop saw (10, 200) is capable of cutting multiple intersecting faces in an elongate workpiece (34) at precisely controlled angles or two faces at precise offsets in an elongate workpiece (34) that can be pivoted about its longitudinal axis. The drop saw (10, 200) being able to accurately make two or more intersecting or spaced apart cuts in the workpiece by adjusting the orientation of a workpiece holding means (28, 30, 32, 228 and 230) with respect to a cutting means (22, 24, 26, 222, 224 and 226) in an x direction and at least two other directions chosen from a set including: y, z, [alpha], [beta] and [gamma], where the x, y and z directions are orthogonal Euclidean directions and the [alpha], [beta] and [gamma] directions are polar angular directions. The workpiece (34) being pivotable about a longitudinal axis that is contained within its cross sectional area, rather than being pivotable about a longitudinal axis disposed upon the outer surface or outside of the workpiece (34).
Financial information
This cutter is ideally suited to a market where timber is the predominant mode of housing construction.
The cutter can be used by non-skilled workers to produce precise complex joins in two or more timber members in a building roof or wall.
The cutter takes the techniques of numerically controlled lathes (CNC lathes) and applies them to the lowly drop saw to make a precision drop saw that is both safe and useable by unskilled workers.
The future of mitre saws
• Far Easier To Use
• Massive Productivity Gains
• Higher Quality Work
• Higher Margins
• New Markets
• Non Disruptive Technology
• Safer "Hands-off" Operation
PRODUCT NAME:
Multifunction Mitre Saw
INTELLECTUAL PROPERTY:
AU Provisional Patent lodged February 2013
International Patent under PCT lodged February 2014
PRODUCT TYPE:
Power Tool
MARKET NEED:
For professionals and consumers who require a safe and easy to use "no marking", high precision, rapid cutting tool that does more in less time by using advanced technology.
PRODUCT DESCRIPTION:
The multifunction mitre saw provides the user with simple procedures to make multiple cuts to wood, metal or any other type of material. The 90 year old mitre fence has finally been replaced.
DEVELOPMENT:
A prototype was developed using lathes and a CNC mill to test the concept and to solve a particular need that no other product on the market could resolve; specifically to make precision dihedral cuts in round bar. An Autodesk Inventor model has also been designed and is ready for stage-two prototype development using a 14"/355mm blade.
BENEFITS:
The two main benefits are the saving of time with resulting high precision cuts. There is no need to mark the workpiece anymore and each cut is final. There is no need to clamp the workpiece multiple times or adjust the mitre or bevel angles every time a cut is made. Common joints can also be cut with the same device. It will also create new markets as it allows new types of high precision joints to be made. It also has another great benefit in that it is not disruptive to existing saw technology.
Also, the user does not need to touch the saw as the cuts are made. This "hands-off" approach to cutting make this the safest portable saw in the market.
COMPETITION:
Currently, there is no direct competition that makes multiple precision cuts in an elongate workpiece with a portable device, especially when cutting round bar. The closest competition is a compound mitre saw where you have to manually adjust the workpiece or head for each cut and this is a time consuming process that introduces inaccuracy. It should be noted that the compound mitre saw also only includes a subset of the features of this invention.
ADVANTAGES:
The main advantages of this mitre saw over the competition are massive productivity gains, precision multihedral cuts and multifunction capabilities in a portable device. It does this by employing a clamping device that holds the workpiece 100% of the time and dispenses with the 90 year old fence. It also dispenses with the clumsy, restricted concept of a tilting cutting head but maintains the ability to cut bevel and compound angles.
CUSTOMER:
The typical customer will be someone who wants to automate the cutting of wood, metal or plastic as much as possible. They may want to make joints in the same material and only want to clamp the workpiece once. They don't want to swivel or rotate the cutting head but do want to make precision cuts. Last but not least; they want to do it quickly. New customers for new markets will also sprout, including geodesic home builders, R & D Departments and Remote Control enthusiasts, to name a few. Both professional users and consumers would benefit from this advanced technology.
TESTIMONIALS:
Gazebo builders, steel fabricators, manufacturers, roof framing carpenters and Remote Control (RC) builders have all shown interest in the product to date, with order requests as well.
MARKET:
The world electric saw market is forecast to rise 5.0 percent annually to 3.3 billion units in 2016, with the professional market outgrowing the consumer market (Freedonia study #2996, Feb 2013). As a result, the professional market would be the primary target market, with key industries being construction and manufacturing for use in metalworking and woodworking. Although these would be the primary markets, the marketing opportunities are endless as this device opens up new and far more efficient ways to cut and shape elongate material.
The potential markets are as follows:
Group 1: Steel Fabricators
Location: All
Size: All
Type: Manufacturer
Group 2: Roof Framing Carpenters
Location: All
Size: All
Type: Manufacturer
Group 3: Geodesic Dome Builders / Construction Companies
Location: All
Size: All
Type: Manufacturers
Group 4: Small scale model builders
Location: All
Size: All
Type: Manufacturers
The possibilities are endless as this device opens up new and far more efficient ways to build frames. The following figures indicate hits achieved using Google and are only indicative of the amount of potential companies that specialize in these areas. It is clear the total target market will be a discounted average of all the following markets:
Group 1: Steel Fabricators:
Steel fabricators 2 890 000
Steel fabrication 2 580 000
Steel fabrication contractor 569 000
Steel fabrication company 1 860 000
Steel fabricator 875 000
Structural steel fabricator 3 420 000
Steel framing specialist 55 300
Steel framing builders 1 400
Steel framing builder 2 070
Steel frame builders 1 290 000
Metal fabricators 4 120 000
Boilermaker 2 090 000
Group 2: Roof Framing Carpenters:
Roofing specialist 414 000
Roofing specialists 886 000
Roofing builder 41 900
Roofing builders 26 300
Roofing carpenter 45 000
Roofing carpenters 50 900
Roof specialist 139 000
Roof specialists 168 000
Roof builder 56 400
Roof builders 28 800
Roof carpenter 15 500
Roof carpenters 22 900
Framing carpenters
Other general markets, including Group 3 and Group 4:
Gazebo construction
Builders
Construction companies
RC model builders / small scale model builders
Geodesic roofs
Geodesic structures in general
Space frames
Polygon architecture
Gokart frames
Roll cages
Furniture frames
Motorbike Frames
Prototype car frames
Hang gliders
Radar installations
Tank covers (petroleum)
Telescope domes
MARKET NICHE:
This product is a numerical drop saw and as such defines a whole NEW MARKET between low cost, low precision drop saws and high cost, high precision numerical lathes (so-called CNC lathes). This market is presently NOT supported by manufacturers of drop saws since it is requires technology they lack and CNC manufacturers are NOT in this market because they already control a large and mature market for lathes.
So our numerical drop saw is a PRIME PRODUCT for a company seeking to dominate a new market in the building and construction industry.
FINANCIAL:
Based on a 14"/355mm mitre saw, the approximate cost to manufacture is $800. Using a gross profit margin of 33%, it is expected the wholesale price will be around $1200. The cost to manufacture is of course manufacturer specific as supply and manufacturing technologies and efficiencies will heavily dictate the final item cost. The gross profit would also likely be higher due to its multifunction capabilities.
DEVELOPER BIO:
The developer of the multifunction mitre saw had a need to make a precision dihedral cut in round bar and there was no such device available on the market. He then decided to invent something to achieve the job and then built it using a lathe, a standard milling machine and a CNC mill. The inventor has been inventing things since his childhood; an "automatic golf ball washer" being his first invention when he was twelve years old and then building a fully functional racquet stringing machine when he was fifteen years old. Since then, he has been making devices from wood, metal and plastic using lathes, milling machines, mitre saws, circular saws, drop saws and 3D printers, to name a few.
TIME IS OF THE ESSENCE:
This numerical drop saw presently has intellectual property rights that require significant investment in the next month. Hence, the asking price (see below) is sized to reflect this need for IMMEDIATE ACTION.
Acting now shall provide maximum monopoly on any markets developed for this drop saw. Waiting shall minimise monopoly rights and reduce and reduce possible returns on investment.
More information available upon request.
---

Patent publications:

WO 2014128553
Asking price:

250,000 USD


Rate this patent

Great invention
Liked:
1 times
Viewed:
2949 times
---
---
---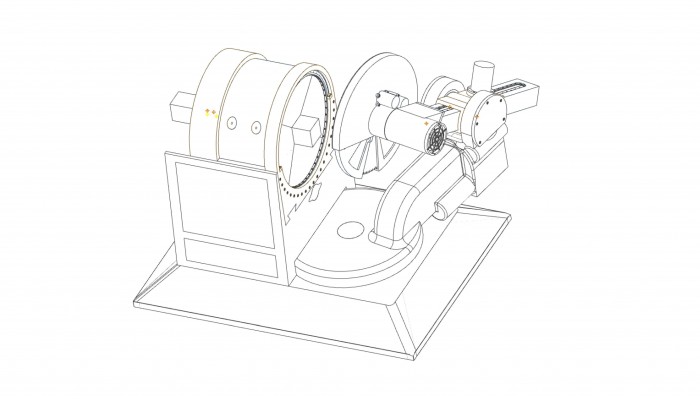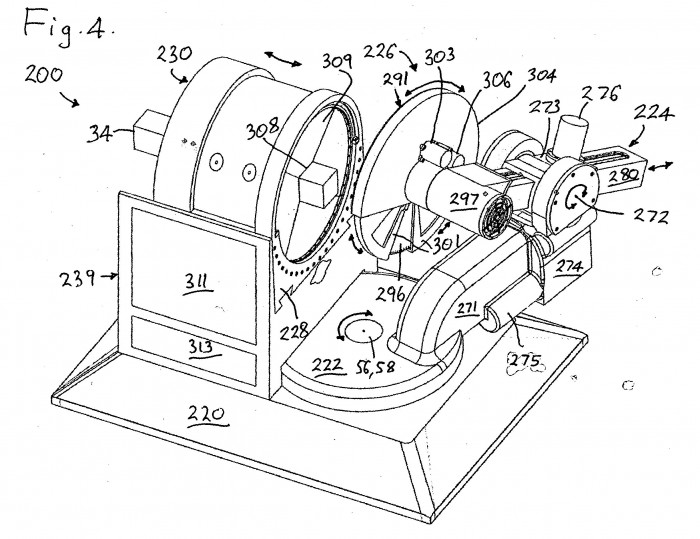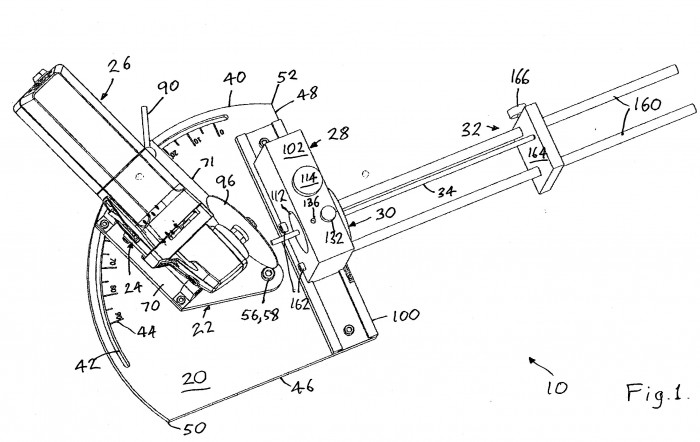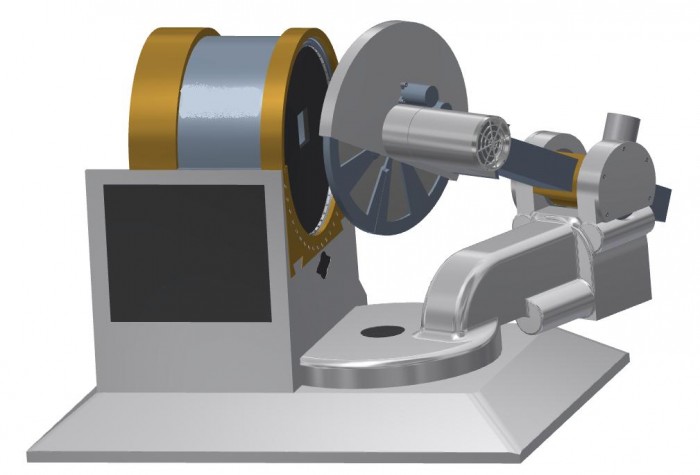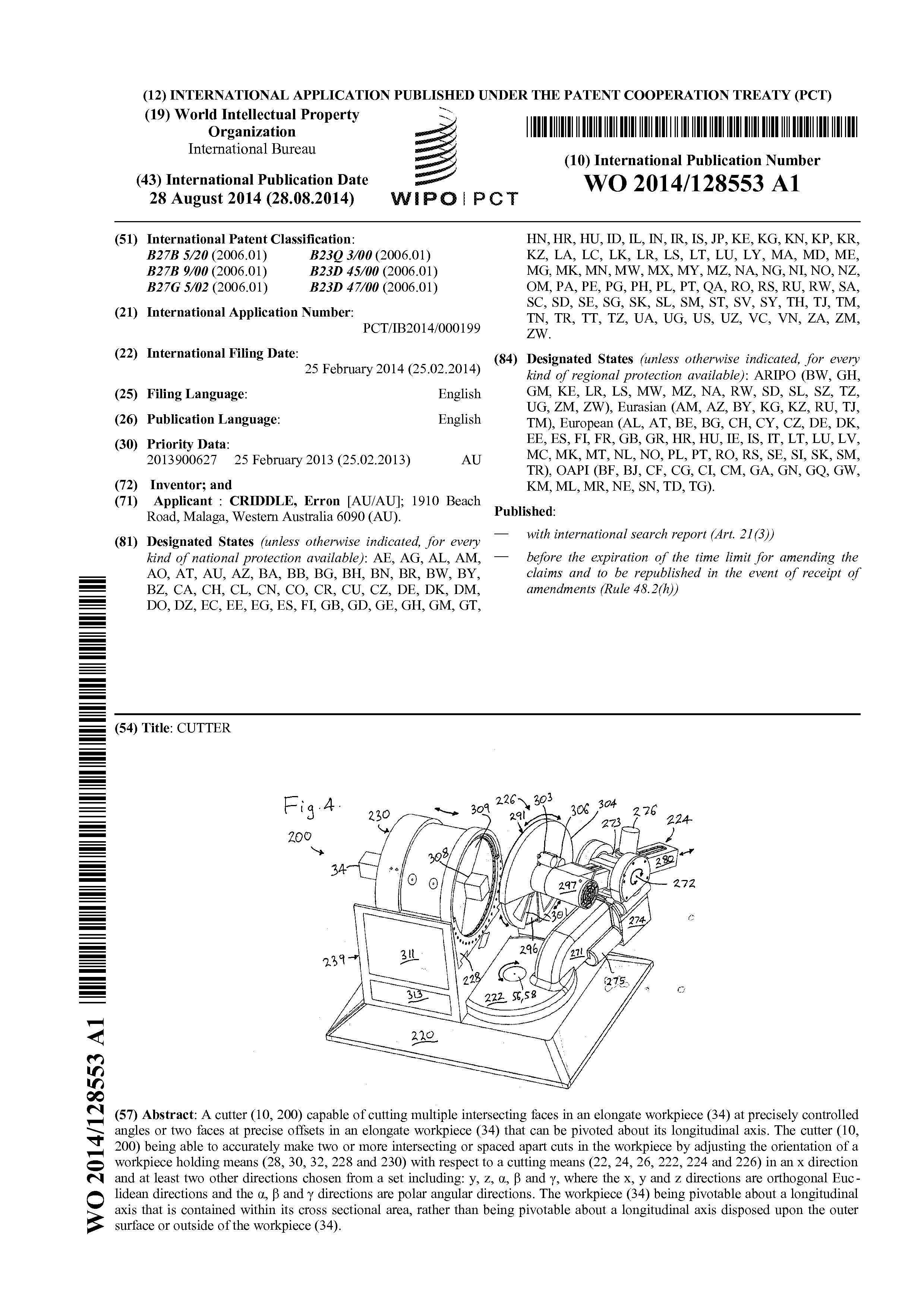 [ Home | List a patent | Manage your account | F.A.Q.|Terms of use | Contact us]
Copyright PatentAuction.com 2004-2017
Page created at 2023-03-21 11:30:50, Patent Auction Time.